Who is online?
In total there are
2
users online :: 0 Registered, 0 Hidden and 2 Guests
None
Most users ever online was
14
on Tue Oct 05 2010, 03:23

I agree with Grenadier about the positioning.
Becuz for example you can flank the 1 guard if you have 2 line, so then it will route faster.
They improved the flanking stuff in patch 1.3 btw, so your units will lose morale faster when engaged on the flanks, also it depends on the hills, amount of cover,trees,.. if you can win with1g against 2 line.
That's what makes ETW harder then f.e. M2TW where the hill weren't that important
_________________
I agree that it will take a lot of time to defeat 1 guard. Longer than 1 line inf, but what if there would be not 1 but 2 squads of line inf? In some situations it can give you time to make some movements with your troops. But in other situations 1 guard will be weaker than 2 line inf.
If you want we can arrange a fight where you will have 1 squad against 2 mine. First with snipers+ line, then 2 lines... It would be fun.

_________________

GrenadierRus

Clan Leader





Posts

: 283


Join date

: 2009-06-22


Age

: 37


Location

: Russia



I agree with you regarding the statistics window, although it is useful to tell how units should be used in battle, for example, since the Fergusson Riflemen have high accuracy and range, but low melee attack and defense stats its logical that they should be used to hit targets from afar and avoid melee confrontations but this is just obvious.
As for the Guard part, i've learned to see things in a battle perspective rather than a quality/quantity based opinion. Lets not forget that the Guard unit, although expensive has high melee and morale stats which could prove and have been proven on the course of many ETW multiplayer battles to possess a key role against most skirmisher and line infantry units. But lets take your example, in which a player A is using 1 skirmisher unit plus 2 line infantry units versus a player B who is using a single Guard unit. By looking at the stats(quality) and the sheer number of men(quantity) player A possesses it may be deceiving to state that player A would win that confrontation. I haven't tried this yet but from my point of view, player B does in fact have more options than player A. After taking some casualties at the skirmishers it can charge against them for a quick rout and then make up for a tough fight againt two line infantry units. Again, i haven't tried this yet, and even if player A is able to defeat the Guard unit, he'll take heavy casualties and a lot of time to defeat those same units.
In a battle perspective, in which more units are present on the field, one Guard unit may make up for those three units and hold them (due to their high morale) long enough for another unit to arrive and deal the finishing blow.
Btw, this is getting to be a very interesting discussion, keep posting


Fusilier




Posts

: 59


Join date

: 2009-08-19


Age

: 26


Location

: Portugal



I guess htat's the basic you should know for playing any RTS, the most important thing is to have an army consisting of multiple variety's of units, because most RTS are 'Rock-Paper-Scissors'; this means that you can kill a lot of cav with square formation, but when cav charges your light, you will lose them mostly (f.e.)
_________________
I dont trust statistics window at all. Some times units with similar activities shoes very different results. So the only way to find out how good they really are is to test them in the fight.
As for me, I dont see any sense in taking guard with such height pries. You may take snipers+line inf or 2 line inf, that would always defeat 1 guard, the same pries. So its better to take more snipers with height range attack & use heavy infantry to protect them from cavalierly attacks...
_________________

GrenadierRus

Clan Leader





Posts

: 283


Join date

: 2009-06-22


Age

: 37


Location

: Russia



Regarding ETW troop quality, i would also like to ask if anyone knows about any special quality the british Coldstream Guards might have, since the british Guard unit is cheaper and possesses higher stats. I was told the Coldstream Guards had 65 accuracy opposed to the 50 displayed on the statistics window, yet after testing it, the result was that in a shootout, the Guards will in fact defeat the Coldstream Guards 1 on 1.
_________________

Fusilier




Posts

: 59


Join date

: 2009-08-19


Age

: 26


Location

: Portugal



Classified wrote: Nice uniforms.
lol
one of the most important things!!!

_________________

GrenadierRus

Clan Leader





Posts

: 283


Join date

: 2009-06-22


Age

: 37


Location

: Russia



Hitman and I wondered how it was possible that Green Jackets, who have better stats then the Ferguson Riflemen, are less expensive then Ferguson people...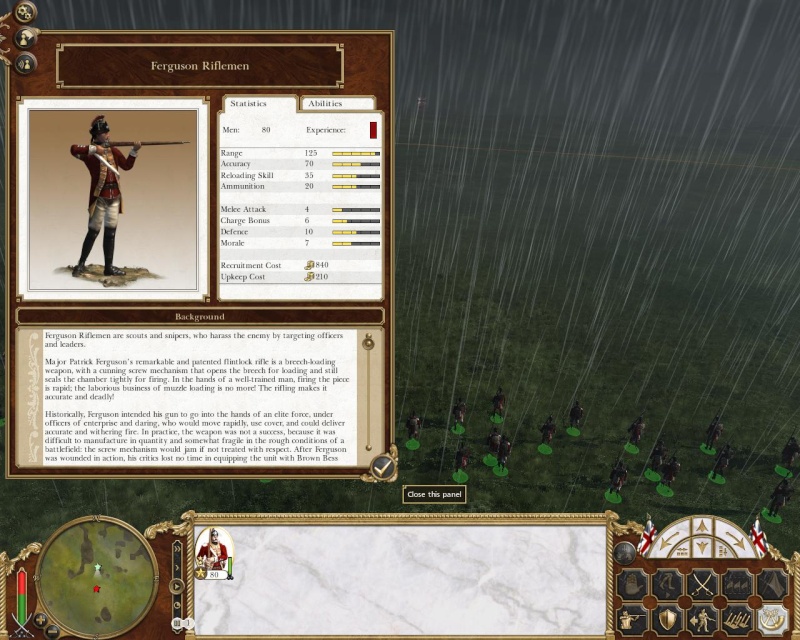 These are Ferguson stats, the Green jackets have the same, but better mêlée stats sue to bayonets.
BUT, Ferguson are way better in firing, so I think it's probably best if you have always some green guys, just in case of an enemy (cavalry) charge, becuz they have bayonets and a higher morale (

So:
Ferguson:
PRO's
: Good Firepower
Nice uniforms
CON's
:Worst mêlée stats (
bayonets
)
Nice hats
_________________

---
Permissions in this forum:
You
cannot
reply to topics in this forum