Who is online?
In total there is
1
user online :: 0 Registered, 0 Hidden and 1 Guest
None
Most users ever online was
14
on Tue Oct 05 2010, 03:23

Russian army before Peter the Great
Before the reforms of Peter the Great, Russian army consisted of Streltsy (from russian word "shooters"). They appeared during rule of Ivan the Terrible somewhere between 1545 and 1550 years. They were recruited mostly from tradespeople & got salary for their duty. All were armed with arquebus, sabre & bardiche. By the beginning of 18th century those troops were completely obsolete. Europe armies at that time had better weapons (muskets with bayonets), had clear separation on regiments & had strong discipline. So the only enemy that Streltsy were useful were southern Tatars & asian medieval nations. During numerous "Northern Wars" against Sweden they showed complete helplessness. Even if they were double outnumbered they could be defeated by "modern" Swedish troops.
Appearing of first Regiments
Peter the Great was born on 7th of May 1682. Since childhood young Peter was a unusual child. Restless & with love to science he adored military games. Due to his European teachers (by tradition all Tzar's children were studied by foreign teachers) he learned about Armies of Europe & persuaded his parents to let him form 2 bands of children the same age to play with. After getting a permission he went to 2 villages near the Moscow called Semenovskoe & Preobrazhenskoe & called volunteers to join his "Poteshnye voiska"(Toy Army). Those bands got their names: Semenovskiy Regiment & Preobrazhenskiy Regiment!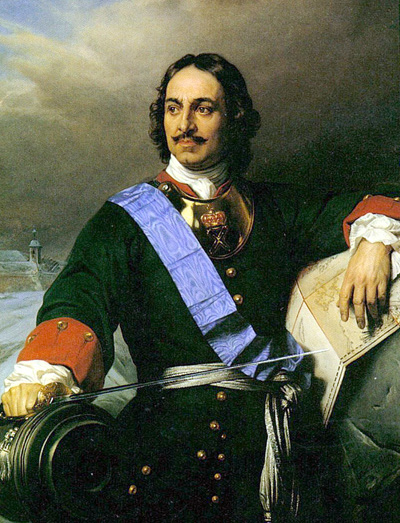 Rise to power
In 1682 the Tzar of Russia Feodor Alexeevich died. He left 2 sons: 16 year old Ivan & 10 year old Peter. Ivan always was very week and ill, so everybody understood that he wouldnt stay long, on the other hand Peter was too young to take the throne. Tsarevna Sophia the daughter of the previous Tzar (she was very wise & ambitious of power woman) used the situation to get all the power to her hands. With help of part of Streltsy regiments she moved away senior son Ivan & 10th year old Peter was declared a Tzar. Then she declared herself a Regent to rule the state while Peter was too young. During that Streltsy Uprising many noble families that were in opposition to Sophia were killed. On eyes of young Peter drunk Streltsy had been running over the palace killing people that he new since childhood. That was a very cruel sight that he remember the rest of his life.
Next 7 years were rather calm for Peter. Tsarevna Sophia ruled the country & he himself was playing with his Toy Army. During that period his Poteshnye voiska became not so "toy" as they were before. Children grew up, they got real european style uniform & muskets(that was the wish of Peter & Sophia couldn't forbidden anything to a legal Tzar even if he was so young ). Peter used all his knowledge (with help of his teachers) to teach them european tactics & discipline. He even built several "toy" fortresses near the Moscow to arrange storms of that fortresses "defended" by Streltsy regiments with his "modern" troops. With dry shot of course!
In length of time when Peter grew up 17 years it became clear that Tsarevna Sophia should give the real power to legal Tzar. That could cost her revenge from those families that suffered during Moscow Uprising of 1682. In 1689 there was an altercation between her & Peter. I wouldnt tire with details, but the tension was so hight that Peter, frightened that he would be executed ran from the palace & hided in Preobrazhenskoe with his supporters & Semenovskiy & Preobrazhenskiy Regiments. Sophia surrounded herself with loyal to herself Streltsy. Most of them were not really sure in legality of supporting Sophia against true Tzar. On the opposite side Peter had two modern type regiments good armed, good trained & whats the most important those regiments consisted of people that new Peter since childhood & whey were ready unhesitatingly to give their lives for their Tzar!
Sophia sent letters to Preobrazhenskoe asking the Tzar to come back to Moscow palace & "talk" about the "situation". Peter sent orders to Sophia & commanders of Streltsy regiments to come immediately to Preobrazhenskoe. After several days of such correspondence, Sophia seeing that her Streltsy started to fluctuate had to obey the orders legal of Tzar.
So due to loyalty of 2 regiments of "Toy Army" Tzar that later would be called "The Great" survived in that struggle & become the true ruler of Russia.
Some military history of Russian Guard
The main task of any Guard is to protect the Royal Family. Still, like any other Guard, Russian Guard participated almost in all wars that were led by
Russian Empire.
First baptism of fire took place during Great Northern War. In the Battle of Narva in November 1700 russian troops were head smashed by Swedish Army under the command of young Charles XII of Sweden. It was a crushing defeat. Russians under the command of Fyodor Golovin had 30.000-35.000 of soldiers. Charles XII had only 11.000 but that didnt stop him crushing russian troops. The only two regiments that showed courage at that day were Semenovskiy & Preobrazhenskiy Regiments. They within three hours were holding back the Swedes attacks while main part of army was retreating...
Next 100 years after wining in The Great Northern War, Russian Guard havened had a chance to show itself on a battlefield. Mostly they are remembered at that period by participating in lots of palace coups 1725—1801 years.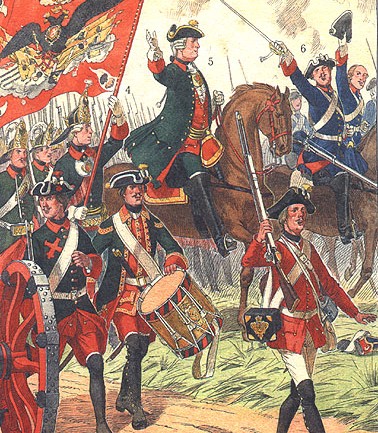 Napoleonic Period
During Napoleonic Wars Russian Guard got their chance to show their courage again. In 1805 in The Battle of Austerlitz, also known as the Battle of the Three Emperors 65.000 Army of Napoleon defeated united Austrian Russian troops under the command of Franz von Weyrother. Army of coalition consisted of 60.000 of russians & 25.000 of austrian soldiers. Because of defeat, Russian Guard again had to cover the retreat of allied forces. Their resistance helped to escape from complete destruction of two armies.
But the most illustrious battle with Russian Guard took place in August 1813.
After the defeat in Russian Campaign, Napoleon raise a army in German to give a new fight to 6th Coalition. The major battle took place at Dresden at 26 -27 August 1813. The battle lasted two days. United Army of Allies had 200.000-230.000 soldiers. Napoleon had only 160.000-170.000. The problem was that allies had to storm fortification of french troops & they couldnt use all their number advantage. On the first day of battle french troops beard all storms of russian, austrian, swedish, prussian soldiers, and on the next day after arriving of the Old Guard launched a counter-attack. Allies ware stopped on all directions, and later had to start retreating. Russian Guard was standing in reserves & after getting an order to retreat, started moving on the main road to Bohemia (now part of Czech Republic).
Napoleon new that he can win that battle & 27 of August decided to send marshal Vandamme bypassing way to entrap retreating army of Allies. Corps of Vandamme had to capture mountain passes in Bohemia & to intercept the way to retreating to army of Allies. If he would have managed to do that 6th Coalition could get into a very difficult situation. Austrian Army suffered heave casualties (12.000 men were captured+ dead) & they were on the verge of concluding a truce with France. One more unsuccessful battle & 6th coalition could fall to pieces.
On 29th of August Vandamme Corps not far from mountain passes of Bohemia at the town Kulm met russian Corps of Graf Ostermann-Tolstoy. Vandamme Corps consisted of 32.000-35.000 soldiers + 84 cannons. Russians had only 13.000-14.000 men. The problem was that it was not just common russian troops. Those were 1st Russian Guard Division (10.000) consisting of Semenovskiy Regiment, Preobrazhenskiy Regiment, Izmaylovsky Regiment, Jager Guard Regiment, Pavlovski Regiment & some Horse Guard Regiments (witch I unfortunately dont know). Vandamme had to break through to the passes at any price. Russian seeing that they are the only obstacle in front of collapsing the trap had no choise but to take the fight. Marshal Vandamme gave an order to attack russian troops. Despite the numerical superiority french troops couldnt overturn russian lines. Russians suffered great casualties but didnt not yield a single meter (by the end of the day about 5.000-7.000 dead). After numerous attacks in the evening Vandamme had to stop the fight & let his tired soldiers take a rest before the next day. On the next day suddenly at the back of Vandamme Corps appeared a Prussian Corps of Graf Friedrich von Kleist(35.000).By luck he was retreating from Dresden the same road that was advancing Vandamme the day before. Russian troops got reinforcements to so the fate of Vandamme was sealed. All in all due to the courage of Russian 1st Guard Division, 6th Coalition was saved & after changing their tactic Allies armies managed to defeat Napoleon in future campaigns...
Thanks for reading.
_________________

GrenadierRus

Clan Leader





Posts

: 283


Join date

: 2009-06-22


Age

: 37


Location

: Russia



Oorah Russian Guard, Oorah!

Cathode




Posts

: 53


Join date

: 2010-03-09


Age

: 35


Location

: Florida



Yes, its a pity that in TW games its the worst guard of all...

_________________

GrenadierRus

Clan Leader





Posts

: 283


Join date

: 2009-06-22


Age

: 37


Location

: Russia



Seems like TCA doesnt like communists...


_________________
Nobody loves communists... In 1812 nobody new about their existence!

_________________

GrenadierRus

Clan Leader





Posts

: 283


Join date

: 2009-06-22


Age

: 37


Location

: Russia





Similar topics
---
Permissions in this forum:
You
cannot
reply to topics in this forum